Description
Affinity Excellence: fine & precision cooking

MULTI-LAYER ROASTING PAN
De Buyer Affinity collection is simply the World top range  stainless steel cookware,  no less than that. It is a favorite of numerous Michelin Star Chefs like Patrick Henriroux, Chef of the famous restaurant La Pyramide in France, and of keen cook amateurs, . 
So why is that ? An innovative one-piece construction of 5 multi-layers stainless steel alloy. The results:
Ultra heat conductor

, close to copper cookware results. It means you 

control perfectly your cooking

, no temperature latency.

Perfect heat distribution

 in the pan. The heat spreads evenly from the 

bottom and the sides

 (see our comparatives below). It makes your 

cooking homogeneous

.

Quick heat increase: you 

save energy and vitamins

.
Cooking tips:  The roast pan shape is specially designed for oven cooking. It is made of 2 layers of stainless steel and 3 layers of aluminum, which is perfectly laminated to achieve 100% heat conduction of the whole pan body without heat blocking the dead corner. It's very suitable for oven cooking meat, grilled meat, poultry, fish, potatoes, vegetables... etc.
The rounded corners of the edges and the bottom of the plate are designed to be easy to clean.
Internal dimensions: 35x25x8 cm

Overall size: 41x27.5x12.35 cm
Cooktops: It can be used on all heat sources, including induction and oven cooking.
The skirt is a one-piece construction of multi-layer stainless steel alloy (AISI 304 & 430 + 3 layers of Aluminum). 

The riveted handles are made of cast st/steel. 

Brushed polish finish. 
Brand:
 de Buyer. 
Made in France

.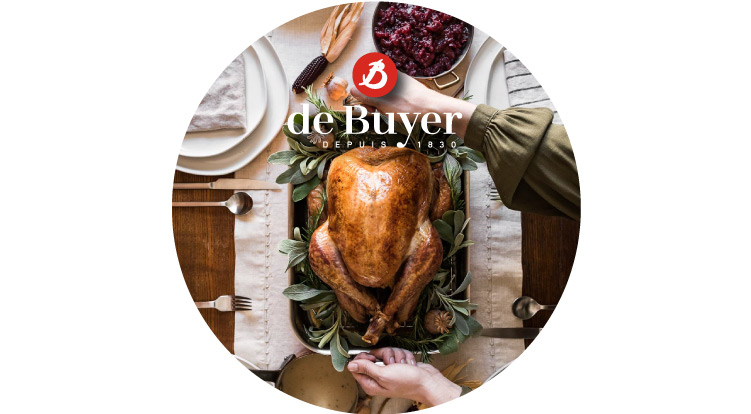 de Buyer Cookware Materials Differences

Customer Reviews
{{'product.product_review.no_review' | translate}}